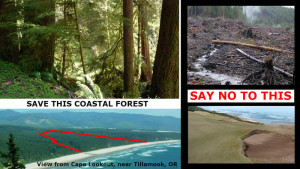 On the northern Oregon coast, a 200-acre plot of rainforest — important habitat adjacent to State Park lands to make one of the biggest preserved tracts of Oregon coast forest — is under threat by a proposed golf course development. The Boy Scouts of America are proposing to lease the land to a major "developer" (destroyer) from Chicago, who wants to build a golf course here, because of budget shortfalls.
Some people within the Scouts are fighting the project and proposing alternative ways to deal with budget shortfall without having to clearcut the forest.
From the petition to stop the project:
WHAT THIS PETITION WILL DO
Add your name to this petition to tell the Boy Scout officials that you do not support the plan to destroy 200 acres of coastal forest on the Oregon Coast in order to build a golf course.

Formal negotiations may begin in the next few weeks (Dec. 2015 to Jan. 2016). It is urgent to stop this plan before a 50-year lease agreement is made. When 10,000 signatures have been gathered this petition will be delivered to BSA officials. Help us reach this goal and send a strong message to BSA officials.
Join the Facebook group opposing the project