On Friday, January 22, 2016 around 10:30am, an FBI agent from the Seattle field office called activist and community organizer Max Wilbert as part of an ongoing campaign of FBI intimidation and harassment directed at environmentalists.
This harassment is believed to be part of an ongoing COINTELPRO-style investigation and harassment campaign against one of the groups Wilbert is involved in, Deep Green Resistance, or DGR. The organization supports "eco-sabotage," but has a code of conduct for members that explicitly states that they will not harm people or engage in illegal underground activities themselves.
The group does take part in protests and non-violent direct action.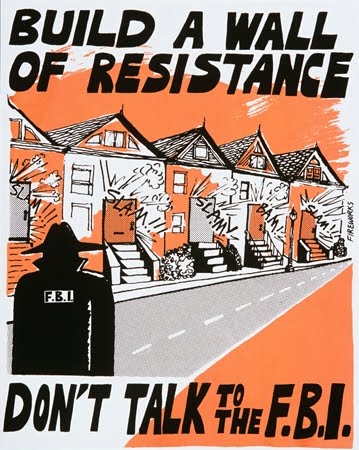 A longtime member, Wilbert has taken part in actions against the Tar Sands and is involved in several campaigns to protect forests and stop large infrastructure projects in the Intermountain West.
This isn't the first time Wilbert has been contacted by the FBI; in December 2014, just over a year ago, another FBI member called him in a similar incident. That phone call took place at the end of an ongoing campaign of harassing phone calls and in-person visists targeting members of Deep Green Resistance, a lawyer helping them with their case, and a few non-member allies.
As recently as January 8th, another DGR member was contacted by the FBI regarding letters to political prisoners she had written, and in September of last year Wilbert was among a group of activists denied entry to Canada and detained at the border for more than 8 hours before being released with no explanation given.
During the latest call that took place on Friday, the agent identified himself and asked Wilbert to speak with him. Wilbert declined and indicated that the agent could contact his lawyer, in accordance with generally accepted activist safety practices. The agent persisted, suggesting that they arrange an in-person meeting, and Wilbert said no and hung up the phone. The phone number the call came from is the public line for the FBI office in Seattle.
Update: Listen to the Interview
Sign The Solidarity Statement Against FBI Intimidation
We demand that this political intimidation of environmental activists stop! We will not be intimidated. We will not be silenced. We will not be afraid. We will not stop fighting for justice. These attempts at government repression only demonstrate that radical activism is a true threat to the dominant systems of power.
If you stand in solidarity with us against this sort of government repression, please comment below as a signatory to this statement or email Eugene@deepgreenresistance.org to be added to the list.