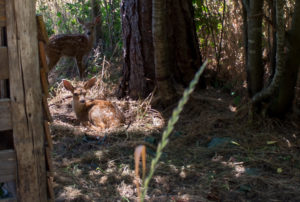 Deep Green Resistance Eugene hosted its first non-violent direct action training this weekend. It was a big success! Thanks to everyone who came out, donated, volunteered, and spread the world to help make this possible.
We're looking forward to good things coming from this training. Our culture of resistance is stronger than ever. Attendees raved about the food, the people, the land, and the knowledge. We're so glad it went well—and this is just the beginning.
The image on this post is a pair of fawns who hung out with us all weekend. It felt like a blessing from the land for our efforts and dedication.
—
In other news, several non-profits (Oregon Wild, Cascadia Wildlands, Center for Biological Diversity, and Portland Audobon) are filing suit with the state to force a re-listing of the Marbled Murrelet as an endangered species. It's currently listed as threatened, but it's population has continued to decline over the last decade.
We applaud these efforts! While we believe that working within the legal system will never solve the overall problems we face, it can make a hell of a difference for specific regions and species. Our thanks to those involved in this fight and the struggle to protect the land and life everywhere.
More information: https://www.cascwild.org/greater-protections-sought-for-marbled-murrelets-in-oregon/