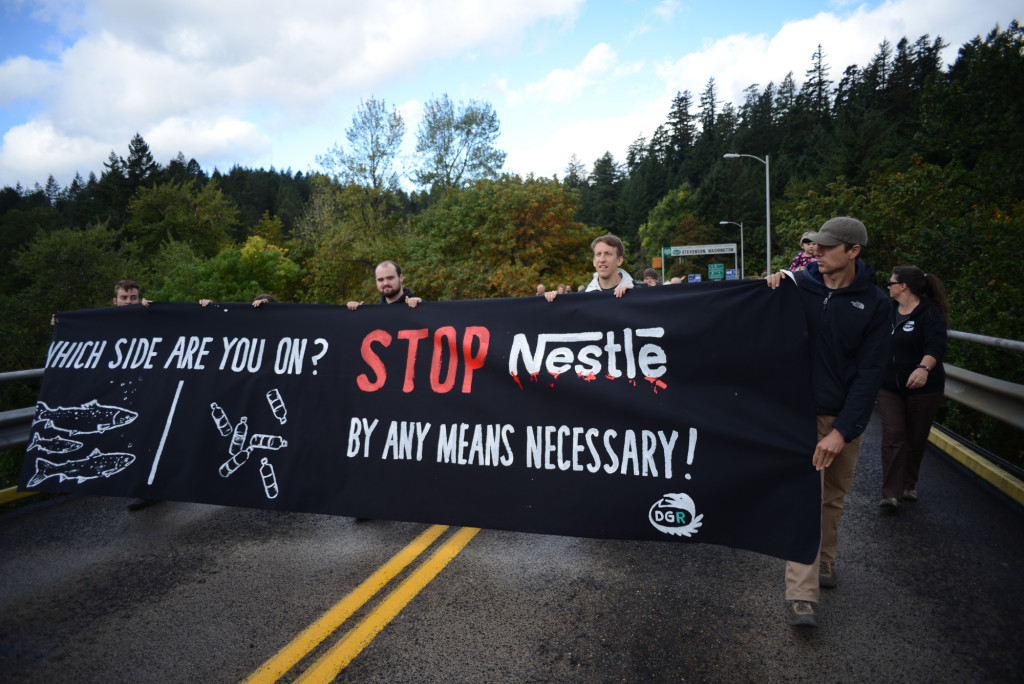 Logging. Pesticides and herbicides. Development. Sexual assault. White supremacy. All these are pressing issues in the Eugene area. The local Deep Green Resistance chapter is actively organizing around these issues, and working with other DGR members and allies across the region and the world on other issues as well.
On Saturday, members of Deep Green Resistance Eugene joined other DGR members from across the region for a protest against a proposed Nestlé bottled water plant at Cascade Locks, Oregon. Nestlé, with the help of local government and the Oregon Department of Fish and Wildlife, seeks to build a 118 million gallon per-year bottling plant.
This facility would pose a direct threat to steelhead and salmon who use the cool water entering the Columbia River from Oxbow Springs as a refuge from dangerous hot water in the main channel (hot water, it must be mentioned, that is primarily caused by the stagnant waters of the reservoirs: the dams are the main culprit. Global warming plays a role as well, as does logging).
Check out the press release from our action on Saturday at Deep Green Resistance News Service: Activists March Against Nestlé on the Bridge of the Gods.
If you wish to learn more about our work or get involved, send an email to eugene@deepgreenresistance.org.